April 2004
photos at bottom of page (text that refers to a photo is followed by O)
After a quick stop in Punta de Mita, we pulled out and headed north to explore the San Blas area. On the way there, we saw lots of whales and turtles. We motored and sailed all the way up. We anchored in a bay just south of San Blas called Matanchen Bay O. There was only one other boat there and a huge bay with a white sand beach lining it all the way around O and waves breaking off the point. Interesting rock outcroppings too. The first night we stayed on the boat, ate spaghetti and watched "20,000 Leagues Under the Sea" (the original) which is one of the kids and Mike's favorites. After a good nights sleep, we were up early to find our way to town and do the normal check in procedure. Since we were not anchored right off town, but in the next bay south, we had a bit of a journey. After dinghying to the shore and locking the dingy to a post, we first walked about half a mile on a dirt road to get to a paved road, they we hitched a ride most of the way into town and took a taxi the last bit to the home of an American couple who have been living in San Blas for many, many years. They sort of told us where to go and what to do and gave us a map and a bunch of bananas off one of their trees. We spent the next couple of hours checking in, the kids are always so patient and good while we do this hurry-up-and-wait procedure. We have all been craving Chinese food and had heard about a good place, so as our reward for checking in, we went to a Chinese place for lunch. YUM! Quite a change from carne asada, carne asada, carne asada. We played tourist in San Blas, which was officially founded in 1768 when the fort O was built. Lots of history here to check out! We looked around the central square, the church and the fort. The fort sits on the top of a hill and overlooks the waters approaching the town. It was pretty neat to see the old buildings and the view was spectacular. The church at the top of the hill O, adjacent to the fort is where Henry Longfellow wrote "The Bells of San Blas". This is also the town where Father Junipero Serra set out for California to eventually build the missions there. So we talked about Spanish, Mexican and California history and how connected they all were. When we got back to the boat, we baked banana bread with the bananas that had been giving to us in the morning and were pre-mashed in the backpack by the time we got home in the afternoon.
The next morning it was up early for a walk down the road to a mangrove swamp, where we went on a jungle, crocodile farm and spring tour O. We had our yummy banana bread as our breakfast. Lining the road up to the Mangroves, there were many, many stands selling delicious looking breads and muffins and candies. It was funny since nothing else was really around, except these stands and here we are with our own banana bread. What are the chances? On the jungle tour we saw many, many birds O. It was kind of fun to just sit back and be able to look around. The guide spoke a little English and we could figure out which birds he was talking about, with him and our bird books as a reference O. The first stop was a crocodile farm O where they showed how they protected and raised crocodiles. They also had several other animals around that we got to observe and play with like: coatimundi, raccoons, javelina and deer. Next, our panga whisked us off to a giant fresh water spring that was back against the foothills. There was beautiful swimming there and a great rope swing O. We had lots of fun there for about an hour before it was time for our return trip. What a fun day. Definitely worth the extra splurge. On the way back, we picked up some smoked fish to take back to the boat for dinner. This area is known for its no-see-ums. They loved Fletcher and Nancy. Mike and Dana fared much better. By the time we left, Fletcher and Nancy were covered with bites which took many weeks to heal up completely. The next day we spent catching up on school, boat work and even got a nap in. Our last day in this area, we went back to town to check out and re-supply for a few days out at the island of Isabella.
After a 6:00am departure, we arrived at Isla Isabella. Isabella is an amazing island with tons of birds nesting O. The first morning we had two Orcas swim right outside of where we were anchored. After breakfast, we packed up to go for a hike on the island. At the first research area/check in area, the trees were thick with frigate birds. The dominant males had their big red throats bulged out O. The babies were cute white puff balls O. There were also many iguanas running around. Kind of like a mini Galapagos. There is an old volcanic crater in the middle of the island that is now filled with water O, so that is where we started our island hike. We then took another path to a beach on one side of the island O that was a Boobie nesting area O. There were many researchers out there from the University. Many of the researchers were stationed over there, they would stay out for 2 months at a time and re-supply every two weeks or so. What a beautiful place to do research. One researcher that we spoke with was studying sibling dominance within a nest. She had a couple of nests that she would watch all day and take notes on how the babies related to one another. We then took another trail that ended up taking us all the way across the island to the other side. It was a beautiful walk. The island has many patches of guava, pineapple O, banana and even sugar cane of which we indulged along the way. And of course there are the birds everywhere. On this side of the island it was a prime nesting site for Heermann's Gulls. No researchers here, just lots of gulls. We stopped and played in the tide pools here before heading back across the island. We were exhausted. What a day! The next morning we went for a snorkel around two pinnacles O on the eastern side of the island. It was pretty cool. On the way back we stopped by another boat that had just pulled in with kids on board. We chatted with them for awhile and had fresh baked ginger cookies. Our original plan had been to stay on the island through Easter, but we decided to head over to Mazatlan early and have Easter there. So, after lunch, we packed up and headed out.
Isabella to Mazatlan was a hard bash for the first 12 hours. Mike had to cook dinner as Nancy just was not up to it. She has had a bad belly for the last couple of months and it was really acting up, and then there was the rough conditions. Between the two things, she was down for the count. After dodging nets and getting stuck in a long line, we made it through the night and arrived in Mazatlan where we pulled into a marina for the first time since we left California O. As we pulled in, there was a band playing right above our slip and everyone was in a good mood. What fun! Hopper was so excited to just be able to get off the boat and go for a walk (actually, Nancy was too!). It turns out that Easter week is huge in Mexico, not the same celebration as we are used to, but a really big holiday here. Tons of people, music, traffic, people, music, and did I mention people? After being anchored out for the past 4 months, we were overwhelmed. The atmosphere was kind of like Mardi Gras. We ventured outside of the Marina for a short jaunt and went racing back to the boat, it was a bit much for us! We stayed in a marina that is attached to a hotel and we got to use the facilities which include two pools with waterfalls, caves and waterslides O, a big hot tub, playground, etc... It is a pretty fun treat. We were only going to stay at the fancy marina for a couple of days (through Easter), but after pricing the other marinas, it was not that much more to stay where we were and have access to all the amenities. Also, the marina we were at was walking distance to internet, restaurants and other businesses. Easter was upon us so we dyed eggs O, put carrots out for the Easter bunny, hid baskets and eggs and had a fun time. We then went to an Easter Sunday brunch O at a hotel close to where we were. We stayed for a couple of hours and ate and ate and ate. The table next to us was some Americans that are living in Mazatlan and they were very fun and told us some local spots not to miss. Local information is always good. After brunch we waddled back to the boat and went out to the pool to hang out. The kids made friends with some Mexican kids O from Mexico City that were here on holiday. They were having so much fun. We invited them back to the boat to watch a movie. and to help eat Easter candy. It is fun to watch the kids relating to each other and having a good time even though they cannot speak much to each other. Just picking the movie out was a crack up since they could not understand the English very well, but they all had fun and gave us big hugs and kisses as we returned them to their parents (who were happy to have had a night to themselves)!
Now that we are in Mazatlan, we had to get working on all of those projects that we had on our list "to do in Mazatlan". By now, the list is pretty long so we knew that we had to start right away. We got on the radio and were trying to find the right folks to do the different jobs that we needed done and to find the shops or stores to get the parts we needed to do the projects that we had to do. Nancy also finally went to the doctor and had some tests done on her belly. The doctor put her on antibiotics and a few days latter she was feeling much better. We went to the old town part of Mazatlan which is very nice and refined and European feeling. We did some of the tourist things to do, explored an old theater and got the schedule of their next performances so that we could get tickets. There was a modern dance festival so we got some tickets for a night of this. We also visited the Cathedral which is quite something. Very baroque, highly decorated, statues of saints everywhere. Dana was overwhelmed by the scene and did not want to go in any farther, but when we all continued in she eventually followed along. We also stopped at a pastry shop and had some yummy desert. The next several days were spent catching up on school, organizing the boat and boat projects, getting supplies and getting to know some of the other boats that were in the marinas. We could just dingy over to the other marina to visit folks. We found some other kid boats and it has been great. We socialized quite a bit with the families, potlucks, dinners out, pool time, shuffle board, foosball, and we all had a big night out on the town. Very fun. We are spending much more money than ever before, but it is so nice to have other families around and it is only for about a month.
Every weekend that we were in Mazatlan, something big was going on. One weekend, there was the finals of the world cup triathalon O, and the winners go on to the Olympics. It was headquartered right next to where we were staying. We strolled over to watch the excitement and got totally wrapped up in it and ended up watching the whole thing O. The kids and Nancy managed to get right up front for the awards ceremony which was just like the Olympics. There were news crews there from about 150 different countries and it was really something. We had been cheering them all on and somehow we managed to catch the eye of the fellow who was the winner of the whole triathalon. After he was awarded his medal, bouquet and crown, he walked over and placed the flowers in Dana's arms and the crown on Fletcher's head O. It was quite a moment. Champagne was being sprayed all about by the winners on the stage, crowds were cheering, confetti was falling from the sky... pretty exciting stuff. But wait, there was more to this exciting day... we had tickets that night to a performance in the beautiful Angela Peralta Theater in Old Town. There was a week long modern dance festival going on and with wanting to see some performance in this theater and Nancy's dance background, one of the first things that we did when we hit Mazatlan was to get tickets. We had told some of the other kid boats about it and they all got tickets also. We made plans to meet in town for dinner and the theater. What a night we had. We met for dinner at an old local restaurant O which is delicious and very reasonable. We then headed across the street to the show O. It was a modern dance company from Mexico. There were companies from Mexico, the USA and Spain. The dance was kind of deep and heavy for the kids (and even the adults), but we figured that is was good for them to be exposed to live performance, even if it was not their favorite. After the theater, we went to another local favorite restaurant that has great desserts. The kids sat at one table O, with the adults at another. We all had a very good time and piled into the back of an open truck/taxi to return to the marina. The remainder of the month was spent working on the boat, doing school with the kids, trying to arrange as much other kid time as possible and getting ready for Dana's birthday.
Our time in Mazatlan was so fun, being with other kid boats, socializing, eating out, etc... but we sort of overdid it and blew our budget in a big way, let alone all of the expensive boat work we were having done! Just for the record (or in case you were wondering) we have been living on about $1100 a month. This is within our budget, so we have not been very frugal with our purchases. We go shopping about once a week and I can get about 4 days worth of fresh meat and veggies to fit in our fridge. We could get this amount down quite a bit if we needed or wanted to. But still, this is pretty good for a family of four plus a cat and a dog!
PHOTO JOURNAL
April
Please click to enlarge!

Walking the beach in Matanchen Bay, San Blas

Some of the beautiful shells to be found in this area, the Royal Comb Venus

A local mango vendor, what a beautiful and yummy treat

The cathedral next to the Fort at San Blas

The Fort

Fletcher surveying his domain, or the view from the Fort

Our birdwatching, jungle tour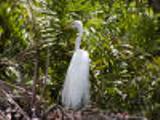 Strike a pose Mr. Egret

We were armed with plenty of bird books, and Nancy was frantically trying to keep up with all that we saw!

And two turtles too

A common bird of the mangrove swamp, an immature Boat Billed Heron. We also saw many Chachalacas, say that three times fast...

Open wide! This fellow actually charged Nancy, yikes!

A very cool rope swing at the fresh water swimming hole

Off go Fletcher and Nancy, two by two

Some remains from an old movie set in the mangroves
Isla Isabella fish camp, a very active place

Beginning our hike on Isabella

A dominant male Frigate bird showing his stuff

In the center of Isabella is a crater lake

A blue footed Booby family

A baby Frigate telling us where to go

Playing on the beach on one side of the island

This is nice

We snorkeled off the rocks in the background the next day

The eggs match the baby

Iguanas were everywhere, here is a green specimen

There was plenty of fruit growing wild on the island, even pineapple

Desiderata from the cliff above

Wow, Desiderata in a marina, what a concept

Getting ready for Easter

The end product

The Easter Bunny Booty

Easter Sunday Brunch, all dressed up and somewhere to go

Nancy preparing the families immigration papers on a borrowed non-electric typewriter

Dana and local friends at the pool, waterfall and swim through cave that we could use connected to the marina

The locals wanted some lunch too

Art at the pool

Dana's creation

A normal scene in the local mercado

The Triathalon

The home stretch

The winning time, wow!

Dana with the gifts from the winner

The kid table at our night out on the town, before the performance

And we can't forget the adult table, what nice friends we made in Mazatlan, we hope to see them all in the Sea this summer

Dancing in the foyer of the theater

The inside of the Angela Peralta Theater

Don't forget about dessert to top the night off